The "X" vertical windlasses are suitable for sail and motor boats from 6m to 27m in length. They have different motorization attributes according to each model. For the X2 windlass and X3 windlass there is a Plus version of stainless steel AISI 316L mirror polishing which offers a stronger protection against corrosion.
The standard features that you can meet in every X series windlass are:
---
To select the proper anchor windlass, you must determine whether it's for a light or heavy use, so we have created a Windlass Selection Tool to help you. Please note that this tool offers recommendations; for your final windlass selection, your local distributor will be able to advise and assist you.
Code

Circuit Breaker

Construction
Gipsy For Chain
Gipsy For Rope

Line Speed at W.L

Max Line Speed
Maximum Pull
Motor size
Net Weight
Power Supply
Type

Working Load (A)

Working load (kg)
472842
187334
Chromed bronze
12 mm, ISO 4565
13 mm, DIN 766
18 mm, 3-strand
14 m/min
32 m/min
1600 kg
1700 W
35 kg
12 V
Low Profile
180
200
472865
187333
Chromed bronze
10 mm, ISO 4565
16 mm, 3-strand
17 m/min
40 m/min
1200 kg
1500 W
35 kg
12 V
With Drum
150
165
472866
187333
Chromed bronze
10 mm, ISO 4565
16 mm, 3-strand
17 m/min
40 m/min
1200 kg
1500 W
32 kg
12 V
Low Profile
150
165
473004
187334
Chromed bronze
12 mm, ISO 4565
13 mm, DIN 766
18 mm, 3-strand
14 m/min
32 m/min
1600 kg
1700 W
38 kg
12 V
With Drum
180
200
473005
187332
Chromed bronze
12 mm, ISO 4565
13 mm, DIN 766
18 mm, 3-strand
15 m/min
32 m/min
1695 kg
1700 W
38 kg
24 V
With Drum
90
215
473006
187332
Chromed bronze
12 mm, ISO 4565
13 mm, DIN 766
18 mm, 3-strand
15 m/min
32 m/min
1695 kg
1700 W
35 kg
24 V
Low Profile
90
215
473208
187334
Chromed bronze
10 mm, ISO 4565
16 mm, 3-strand
14 m/min
32 m/min
1600 kg
1700 W
38 kg
12 V
With Drum
180
200
473209
187334
Chromed bronze
10 mm, ISO 4565
16 mm, 3-strand
14 m/min
32 m/min
1600 kg
1700 W
35 kg
12 V
Low Profile
180
200
473228
187333
Chromed bronze
10 mm, DIN 766
16 mm, 3-strand
17 m/min
40 m/min
1200 kg
1500 W
32 kg
12 V
With Drum
150
165
473252
187332
Chromed bronze
10 mm, ISO 4565
16 mm, 3-strand
15 m/min
32 m/min
1695 kg
1700 W
38 kg
24 V
With Drum
90
215
473256
187332
Chromed bronze
10 mm, ISO 4565
16 mm, 3-strand
15 m/min
32 m/min
1695 kg
1700 W
35 kg
24 V
Low Profile
90
215
57451
187334
Aluminium
8 mm, ISO 4565
DIN 766
14 mm, 3-strand
14 m/min
32 m/min
1600 kg
1700 W
35 kg
12 V
With Drum
180
200
57452
187334
Aluminium
10 mm, DIN 766
16 mm, 3-strand
14 m/min
32 m/min
1600 kg
1700 W
35 kg
12 V
With Drum
180
200
57453
187334
Aluminium
12 mm, ISO 4565
13 mm, DIN 766
18 mm, 3-strand
14 m/min
32 m/min
1600 kg
1700 W
35 kg
12 V
With Drum
180
200
600064
187334
Chromed bronze
8 mm, ISO 4565
DIN 766
14 mm, 3-strand
14 m/min
32 m/min
1600 kg
1700 W
38 kg
12 V
With Drum
180
200
600065
187334
Chromed bronze
8 mm, ISO 4565
DIN 766
14 mm, 3-strand
14 m/min
32 m/min
1600 kg
1700 W
35 kg
12 V
Low Profile
180
200
600068
187332
Chromed bronze
8 mm, ISO 4565
DIN 766
14 mm, 3-strand
15 m/min
32 m/min
1695 kg
1700 W
38 kg
24 V
With Drum
90
215
601070
187333
Chromed bronze
8 mm, ISO 4565
DIN 766
14 mm, 3-strand
17 m/min
40 m/min
1200 kg
1500 W
32 kg
12 V
Low Profile
150
165
601075
187333
Chromed bronze
12 mm, ISO 4565
13 mm, DIN 766
18 mm, 3-strand
17 m/min
40 m/min
1200 kg
1500 W
32 kg
12 V
Low Profile
150
165
601079
187333
Chromed bronze
8 mm, ISO 4565
DIN 766
14 mm, 3-strand
17 m/min
40 m/min
1200 kg
1500 W
35 kg
12 V
With Drum
150
165
601084
187333
Chromed bronze
12 mm, ISO 4565
13 mm, DIN 766
18 mm, 3-strand
17 m/min
40 m/min
1200 kg
1500 W
35 kg
12 V
With Drum
150
165
601128
187334
Aluminium
8 mm, ISO 4565
DIN 766
14 mm, 3-strand
14 m/min
32 m/min
1600 kg
1700 W
32 kg
12 V
Low Profile
180
200
601129
187334
Aluminium
10 mm, ISO 4565
16 mm, 3-strand
14 m/min
32 m/min
1600 kg
1700 W
32 kg
12 V
Low Profile
180
200
602101
187334
Chromed bronze
10 mm, DIN 766
16 mm, 3-strand
14 m/min
32 m/min
1600 kg
1700 W
38 kg
12 V
With Drum
180
200
602102
187334
Chromed bronze
10 mm, DIN 766
16 mm, 3-strand
14 m/min
32 m/min
1600 kg
1700 W
35 kg
12 V
Low Profile
180
200
602103
187332
Chromed bronze
10 mm, DIN 766
16 mm, 3-strand
15 m/min
32 m/min
1695 kg
1700 W
38 kg
24 V
With Drum
90
215
602104
187332
Chromed bronze
10 mm, DIN 766
16 mm, 3-strand
15 m/min
32 m/min
1695 kg
1700 W
35 kg
24 V
Low Profile
90
215
File
Category
Installation And User's Manual ~ X3 - X3 Alu - Project 1500 Download
3D CAD Model ~ X3 Low Profile 1500W Download
3D CAD Model ~ X3 Low Profile 1700W Download
3D CAD Model ~ X3 Standard 1500W Download
3D CAD Model ~ X3 Standard 1700W Download
Deck Template ~ X3 (dwg) Download
Deck Template ~ X3 (pdf) Download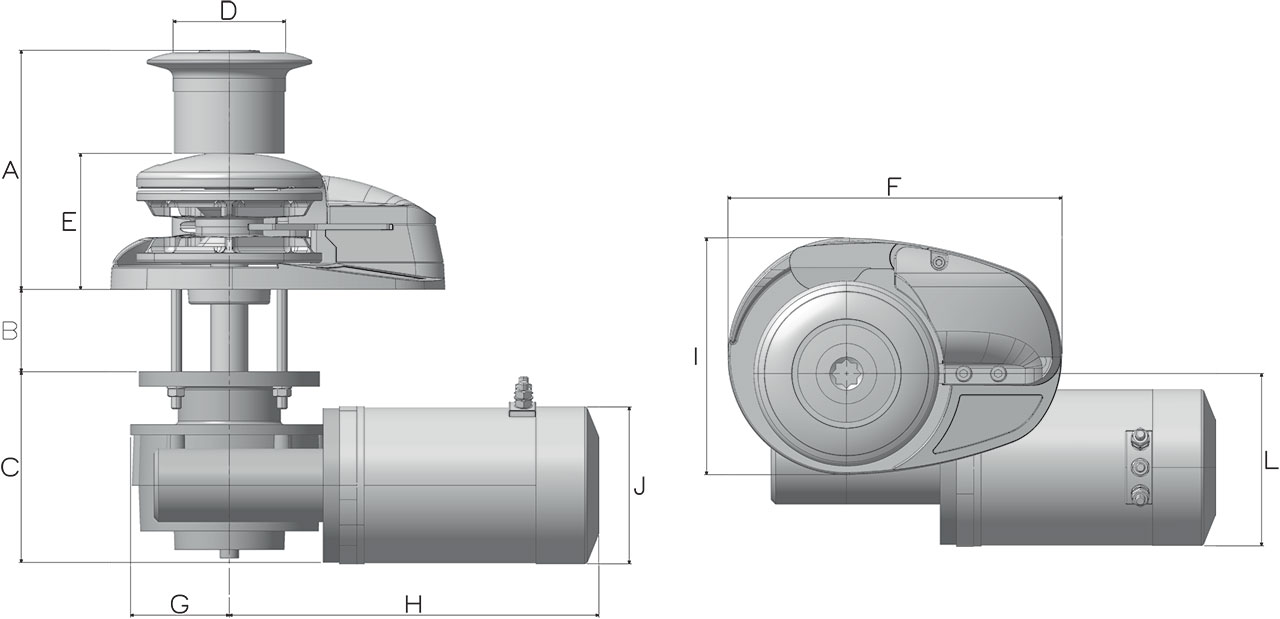 | Model | A | B | C | D | E* | F | G | H | I | J | L |
| --- | --- | --- | --- | --- | --- | --- | --- | --- | --- | --- | --- |
| 1500W | 195 | 50-70 | 155 | Ø92 | 110 | 270 | 80 | 255 | 192 | 134 | 145 |
| 1700W | 195 | 50-70 | 155 | Ø92 | 110 | 270 | 80 | 300 | 192 | Ø127 | 140 |
*Low Profile height dimensions