The "Project" windlasses can be installed in sail and motor boats from 6m to 27m in length. These windlasses are considered to be an elite product line as they are developed to provide high performance, easy installation and maintenance. Another feature that is a milestone for Lofrans' is the internationally pattended motor which includes two solenoids. Also they feature a sensor and a magnet for an easy connection to the chain counter.
The motors of the Project windlasses are designed specifically to provide high torgue in every anchoring situation and their anchoring power can reach 45m / min. In case of function failure of the solenoids, there is the ability to bypass the solenoid with a connection to the terminal "E" and lift up the anchor.
All motors have IP66 rate, their body has double zincates and they are painted with a polyester coating. Also, they are sealed by a sequence of seals in order to prevent water intrusion.
---
To select the proper anchor windlass, you must determine whether it's for a light or heavy use, so we have created a Windlass Selection Tool to help you. Please note that this tool offers recommendations; for your final windlass selection, your local distributor will be able to advise and assist you.
Code

Circuit Breaker

Gipsy For Chain
Gipsy For Rope

Line Speed at W.L

Max Line Speed
Maximum Pull
Motor size
Net Weight
Power Supply
Type

Working Load (A)

Working load (kg)
220153
187333
8 mm, ISO 4565
DIN 766
14 mm, 3-strand
22 m/min
50 m/min
1000 kg
1000 W
22 kg
12 V
Low Profile
135
165
220159
187333
8 mm, ISO 4565
DIN 766
14 mm, 3-strand
22 m/min
50 m/min
1000 kg
1000 W
24 kg
12 V
With Drum
135
165
428419
187333
10 mm, ISO 4565
-
22 m/min
50 m/min
1000 kg
1000 W
24 kg
12 V
With Drum
135
165
471022
187333
10 mm, ISO 4565
-
22 m/min
50 m/min
1000 kg
1000 W
22 kg
12 V
Low Profile
135
165
471023
187332
10 mm, DIN 766
-
25 m/min
50 m/min
1060 kg
1000 W
24 kg
24 V
With Drum
70
165
473280
187332
10 mm, DIN 766
-
25 m/min
50 m/min
1060 kg
1000 W
22 kg
24 V
Low Profile
70
165
478645
187332
8 mm, ISO 4565
DIN 766
14 mm, 3-strand
25 m/min
50 m/min
1060 kg
1000 W
24 kg
24 V
With Drum
70
165
602092
187333
10 mm, DIN 766
-
22 m/min
50 m/min
1000 kg
1000 W
24 kg
12 V
With Drum
135
165
602093
187333
10 mm, DIN 766
-
22 m/min
50 m/min
1000 kg
1000 W
22 kg
12 V
Low Profile
135
165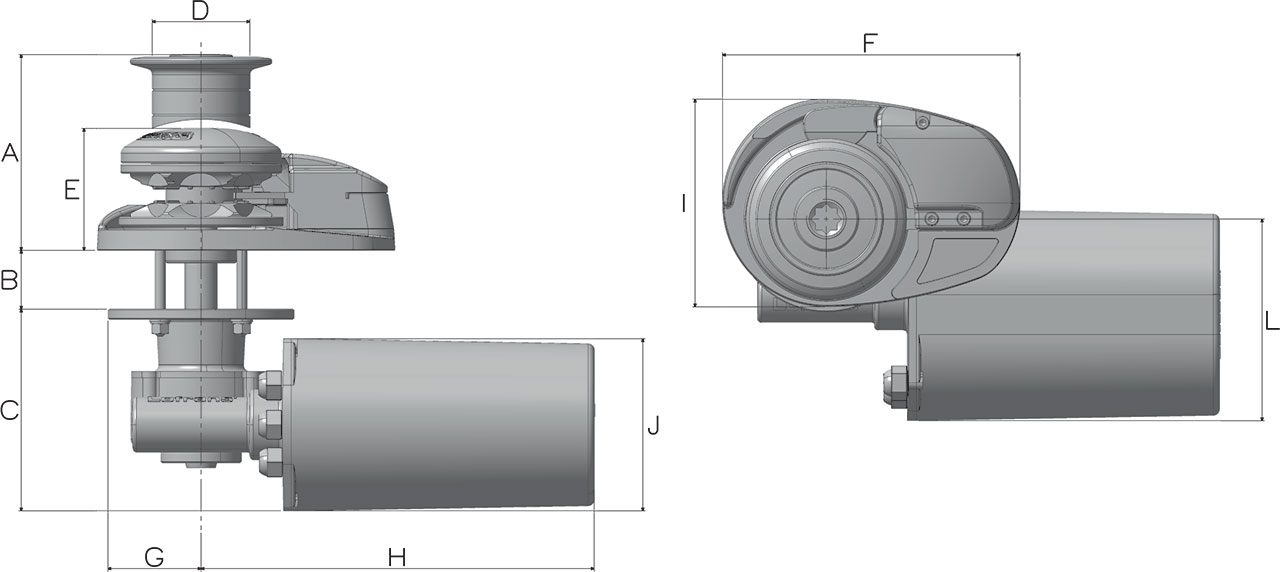 | Model | A | B | C | D | E* | F | G | H | I | J | L |
| --- | --- | --- | --- | --- | --- | --- | --- | --- | --- | --- | --- |
| 1000W | 153 | 25-40 | 155 | Ø76 | 95 | 232 | 73 | 306 | 162 | 134 | 165 |
*Low Profile height dimensions